Kyos adds Cyberwatch to it's Vulnerability and Compliance managament portfolio
Kyos has partnered with Cyberwatch to add their Vulnerability and Compliance management platform to the portfolio. With the increase in complexity of IT systems, it is more important than ever to have the right tools to detect and track the vulnerability and compliance state of your infrastructure.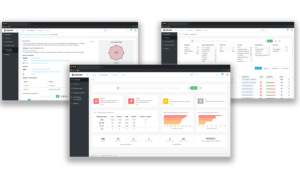 Cyberwatch combines an on-premise vulnerability scanner with a powerful console to keep all the needed checks and balances in place. The reporting features provided by Cyberwatch set it apart from their competitors and provide a solution to our customers that need a robust reporting tool with a real risk evaluation. Indeed, Cyberwatch is well received with System Engineers as it supports their work of prioritizing, addressing and correcting vulnerabilities in an effective way. API Integrations provided by the platform allow to support this workflow to an even greater extent by creating tickets or SIEM entries for example, while its customization features let users adapt well-known security benchmarks such as CIS to the need of the information system.
 Opinion from our expert
"By experience, patching can be a complicated and slow process, and to be able to discern deployment priorities is a key factor to keep an infrastructure secure.

While high interaction vulnerability scanners identify and penetration testing prove the exploitability of known flaws and weaknesses on the higher end of the network services stack, Cyberwatch fills the gap: operating system, frameworks and libraries are watched closely on both servers and workstations application stacks."
Another strong point is its seamless integration with one our existing partners: Wallix. Indeed, Cyberwatch can be integrated with the Wallix Password Manager to automate authenticated vulnerability scans. This is one of the compliance requirements for the European NIS Directive.
We look forward to this newfound partnership and are excited to bring this solution to the broader swiss market.