Kyos receives the Aruba Platinum Partner Status
After many years of teamwork, we are proud to have achieved Aruba Platinum Partner status.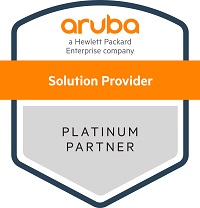 An acknowledgement of the joint commitment of the Kyos and Aruba teams
After the fusion with Spacecom, Kyos became a leader in the field of secure network installations in Switzerland. Since then, we have carried out numbers of public and private campus and wifi network projects in municipalities, hotels, schools, administrations, institutions, industries, banks and others.
Kyos and Aruba's technical and sales teams have quickly developed a strong relationship between them, with a shared spirit of mutual support, trust and a sense of customer service.
Of course, this success is largely due to the quality of Aruba's product lines and their added value in terms of security, as well as the involvement of our security and network experts. But the common dynamic between Kyos and Aruba has also greatly contributed to the success of the projects we have completed for our clients.
We would like to thank the HPE Aruba team for their help and involvement with Kyos and our clients, and in particular Olivier Munyarugerero, Gianpaolo Gruber, Olivier Amos, Edgar Rotzer and Eric Merlin.
A status that allows us to better serve our customers
The Kyos team now includes six certified technical experts who guarantee customers the quality of Kyos' service expertise:
1 certification ACDX – Aruba Certified Design Expert
2 certifications ACDP – Aruba Certified Design Professional
4 certifications ACCP – Aruba Cert ClearPass Professional
4 certifications ACMP – Aruba Cert Mobility Professional
2 certifications ACSP – Aruba Cert Switching Professional
3 certifications AIS – Aruba Introspect Specialist (now integrated with ClearPass)
Finally, the Platinum status allows us to maintain ongoing training of our experts in Aruba product and service lines, as well as access to a lab environment at Kyos for easier testing, support or demonstrations for our clients.